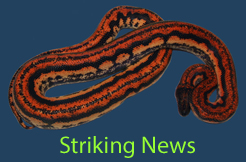 Site last updated

CANDY STRIPE BRB's -Now TWO litters produced from the same pairing. BOTH with Super Candy Stripe babies!!
Click here for details/pics
ALBINO BRB's -07/14/2016 Bianca delivered an amazing litter with 3.4 Albinos and 5.7 het Albinos. All healthy full term babies.
Click here for details/pics
Note: Due to increasing FedEx shipping fees, we've had to raise our shipping rate to $90.
Our main objectives are to ensure that we supply only high quality animals and unparalleled customer satisfaction.

Contact us at:
Rainbowsrus@sbcglobal.net
408-224-0414

Like us on Facebook:
www.facebook.com/Rainbows-r-us-reptiles-114675408595751


Ordering - This site intentionally does not have any "buy it now" or shopping cart features. Please contact us directly at rainbowsrus@sbcglobal.net
or 408-224-0414 to purchase any of our animals.
Upcoming reptile shows

July 15th & 16th 2023
Vallejo Reptile and Oddities Expo
Solano County Fairgrounds
900 Fairgrounds Dr.
Vallejo, CA 94589
September 23rd & 24th 2023
Sacramento Reptile Show
Cal Expo
1600 Exposition Blvd.
Sacramento, CA 95185